Finding and Applying Coupon Codes: A Step-by-step Guide for UAE Shoppers
Step-by-step Guide Of How To Find And Apply Coupon Codes for Online Shopping In The UAE
Author : Shreya
|
Updated On: 20 May 2023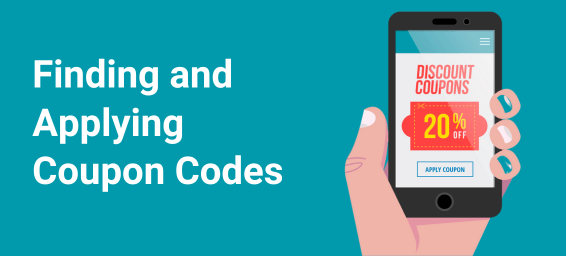 A Step-by-step Guide Of How To Find And Apply Coupon Codes for Online Shopping In The UAE
Welcome to CouponMoto.ae, your go-to destination for the best deals and discounts in the UAE. In this comprehensive guide, we will take you through the step-by-step process of finding and applying coupon codes, helping you save money while shopping online. Whether you're a seasoned coupon user or new to the world of savings, this guide is packed with valuable information to enhance your shopping experience.
I. Understanding Coupon Codes
A. What are coupon codes?
Coupon codes are alphanumeric combinations that can be applied at the checkout to unlock discounts, deals, or special offers. They serve as virtual keys that open doors to savings on your favorite products and brands.
B. Benefits of using coupon codes
Saving money on purchases: Coupon codes are the secret to unlocking significant discounts, allowing you to stretch your shopping budget further.
Access to exclusive deals and discounts: By using coupon codes, you gain access to exclusive promotions and limited-time offers that aren't available to regular shoppers.
II. Researching and Finding Coupon Codes
A. Utilizing coupon code websites
Introduction to popular coupon code websites in the UAE: CouponMoto.ae is one such website that brings you a vast collection of coupon codes from various retailers in the UAE. With its user-friendly interface and regularly updated codes, you can easily find the best deals for your favorite stores.
Navigating user-friendly platforms for a seamless experience: CouponMoto.ae provides a hassle-free experience, allowing you to quickly search for specific brands or browse through different categories to discover exciting offers.
B. Subscribing to newsletters and email lists
Benefits of signing up for newsletters from retailers: CouponMoto UAE sends exclusive coupon codes and special promotions to their newsletter subscribers. By signing up, you ensure that you never miss out on these valuable discounts.
Tips for managing email subscriptions efficiently: To avoid clutter in your inbox, consider creating a separate folder for CouponMoto.ae newsletters. This way, you can easily access the latest deals whenever you're ready to shop.
III. Strategies for Effective Coupon Code Hunting
A. Timing your purchases strategically
Understanding sale seasons and peak discount periods: Retailers often offer major sales during festive seasons and special events. Keep an eye out for these periods to maximize your savings.
Taking advantage of holiday promotions and special events: Holidays and special occasions bring exciting discounts. CouponMoto.ae keeps you updated with the latest holiday promotions, ensuring you never miss a great deal.
B. Exploring social media and online communities
Engaging with brands and influencers on social media platforms: Follow your favorite brands and influencers on social media platforms like Instagram and Facebook. They often share exclusive coupon codes or host giveaways that can help you save money.
Joining online forums and communities for coupon sharing: Online communities dedicated to coupon sharing are a treasure trove of savings. Participate in discussions, share your findings, and discover new codes from fellow savers.
IV. Applying Coupon Codes at Checkout
A. Reading and understanding coupon code terms and conditions
Validity periods, usage limits, and restrictions to be aware of: Coupon codes come with specific terms and conditions. Before applying a code, read through these conditions to ensure you meet all the requirements.
Exclusions and exceptions for specific products or categories: Some coupon codes may have restrictions on certain products or categories. Familiarize yourself with these exclusions to avoid disappointment at the checkout.
B. Copying and pasting coupon codes accurately
Tips for avoiding typographical errors during the checkout process: Double-check the coupon code you've copied to ensure accuracy. A small typo can prevent you from enjoying the discount.


V. Troubleshooting Coupon Code Issues
A. Dealing with expired or invalid coupon codes
Double-check expiration dates and terms before use: Ensure that the coupon code you're using is still valid and hasn't expired. Always read the terms and conditions to avoid disappointment. To avoid this, you can simply rely on CouponMoto.ae, as it provides only valid coupons.
Contact customer support for assistance or alternatives: If a coupon code doesn't work, reach out to the retailer's customer support for assistance. They may offer alternative codes or solutions to help you save.
B. Overcoming technical difficulties during code application
Clearing cache and cookies for smoother checkout experiences: Sometimes, technical issues can prevent coupon codes from applying correctly. Clear your browser's cache and cookies to ensure a smooth checkout process.
Switching browsers or devices if issues persist: If the problem persists, try switching to a different browser or device. This can help you identify if the issue is specific to your current setup.
VI. Advanced Coupon Code Strategies
A. Stacking and combining coupon codes
Understanding retailers' stacking policies and limitations: Some retailers allow stacking multiple coupon codes for additional savings. Check the retailer's policy to see if you can combine codes.
Maximizing discounts by combining codes with other promotions: Look for opportunities to combine coupon codes with ongoing promotions, such as free shipping or buy-one-get-one deals, to maximize your savings.
B. Utilizing cashback and rewards programs
Introduction to popular cashback platforms in the UAE: CouponMoto.ae offers cashback and rewards programs where you can earn additional savings on top of the coupon codes. Take advantage of these platforms to further boost your savings.

Earning additional savings through loyalty programs: Many retailers offer loyalty programs that reward you for your repeat purchases. Explore these programs to earn points and exclusive benefits.


Wrapping Up...
CouponMoto.ae is your ultimate resource for finding and applying coupon codes in the UAE. By following this step-by-step guide, you can become a savvy coupon shopper, saving money on your online purchases. Start exploring the world of coupon codes today and unlock a world of savings. Happy shopping!