Embrace Savings: Your Guide To Top White Friday Sale Coupons & Deals
A Complete Guide To Top White Friday Sale Coupons & Deals
Author : Shreya
|
Updated On: 10 Aug 2023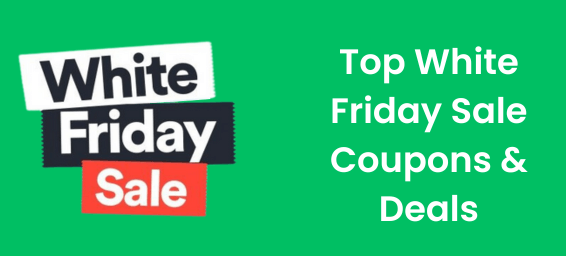 Embrace Savings: Your Guide To Top White Friday Sale Coupons & Deals
The Ultimate Guide to White Friday Sales in UAE
Imagine the buzz of excitement as you peruse a list of unbelievable sales and your heart racing as you realize you can save a ton of money. Yes, we're talking about the White Friday Sales – the ultimate shopping extravaganza that sets the UAE on fire! Brace yourselves, savvy shoppers, because this is the moment you've been waiting for. It's finally here: the time when you can afford to indulge your desire for the finest goods without leaving your bank account panting for air.
White Friday Sales aren't just about sales. They are about scoring the best deals that any bargain hunter will love. But here's the secret sauce: to truly milk this opportunity for all it's worth, you need to be in the know, ahead of the game. That's where this article comes in!
Welcome to the complete guide to the "Top White Friday Sales in UAE," where we tell you everything you need to know about this shopping phenomenon. Stay glued, for in the next few minutes, you're about to unlock the doors to a world of unbelievable discounts, unravel the strategies to make the most out of this shopping fiesta and emerge as the ultimate champion of White Friday savings. Let's dive in!
White Friday Sale 2023: UAE's Epic Shopping Extravaganza
Prepare to be swept off your feet as we dive into the captivating world of White Friday, a shopping phenomenon that has taken the UAE by storm. Curious minds rejoice – we're about to unveil the secrets behind this extraordinary event that promises unbeatable deals and thrilling bargains.
What is White Friday?
White Friday, with its origins deeply rooted in the UAE, is the ultimate shopping extravaganza where savvy shoppers unite to snag remarkable deals on a variety of coveted products. But here's the twist – the name isn't random. White Friday UAE draws inspiration from the illustrious Black Friday tradition in the West, an emblem of frantic shopping and remarkable savings. Think of White Friday UAE as its dazzling cousin, tailored to the UAE's vibrant culture and shopping fervor.
When is White Friday 2023?
White Friday Date: 22nd to 30th November
Mark your calendars, because this year's White Friday is right around the corner! On 22nd November the UAE will come alive with unparalleled shopping opportunities that will leave you awestruck. Imagine browsing through a treasure trove of discounts on everything from electronics to fashion, beauty, and beyond. It's not just a day; it's a shopping carnival, a chance to embrace luxury without breaking the bank.
The popularity of White Friday 2023 has soared to incredible heights, with each passing year ushering in a wave of eager shoppers looking to elevate their lifestyle at a fraction of the cost. So, fasten your seatbelts and get ready to embark on a journey that promises to unravel the mysteries of White Friday and equip you with the ultimate insider knowledge.
Discovering Unbeatable Deals: Exploring Category-wise Highlights
When it comes to navigating the treasure trove of Dubai White Friday Sales, the world of shopping is your oyster! Let's dive into the exciting realms that promise to elevate your shopping experience:
Electronics:Upgrade your gadgets for less. Get ready for incredible discounts on smartphones, laptops, and TVs from brands like Apple, Samsung, and more.
Fashion and Beauty:Revamp your style with up to 80% off on clothing, footwear, accessories, and beauty products. Score big and save more with discount coupons from CouponMoto UAE.
Home Essentials:Transform your space effortlessly. Discover furniture, carpets, appliances, and decor to redefine your home's vibe.
Beauty:Glow up with premium skincare, makeup, and grooming products at unbeatable prices. Unveil your best self without overspending.
Unmissable Savings Await:Get set for a shopping spree like no other. Unbeatable deals across categories are here to elevate your lifestyle.
Mark down your calendar and dive into White Friday's best offerings!
Key Players and Exciting Brands in UAE's White Friday Sales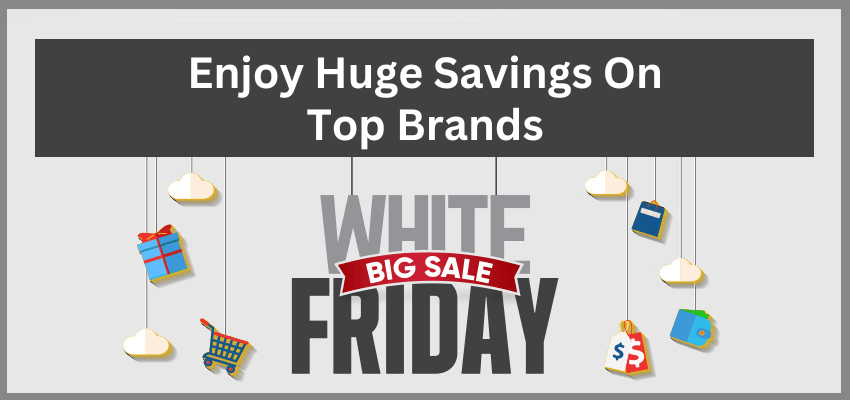 Major e-commerce giants and well-known retailers are participating in these massive shopping days. They are ready to offer unbelievable discounts that redefine the idea of a good deal. From electronics to fashion, beauty to home goods, these powerhouses promise to make your White Friday experience truly unforgettable.
Amazon leads the charge with an array of gadgets, fashion pieces, and household essentials that could easily make your wishlist a treasure trove of affordability.
West Elm adds its elegant touch, ushering in a flair for home décor that transforms spaces into comfort havens.
And let's not forget about Noon, the one-stop-shop extraordinaire, poised to roll out remarkable markdowns across an array of categories, from fashion and electronics to beauty and home goods.
Dive into the fashion cosmos with Namshi, where style meets discounts and beauty reigns.
For those craving a touch of grocery shopping marvel, Carrefour promises exciting savings on daily essentials.
Elevate your lifestyle with luxury from Bloomingdale's or embrace your athletic side with sporty offers from Sun and Sand Sports.
| | |
| --- | --- |
| Top Stores | White Friday Offers |
| Amazon | Up to 70% off |
| West Elm | Up To 60% Off |
| Noon | Up To 80% Off + Extra 10% Off |
| Namshi | Up To 60% Off + Extra 20% Off |
| Bloomingdale's | Up To 80% Off |
| Sun And Sand Sports | Max 60% + Extra 20% Off |
| Carrefour | Up to 50% Off |


Amazon White Friday Sale 2023:
Hurry, shopaholics! The White Friday Sale Amazon 2023 is here, and it's nothing short of spectacular! Until Monday, November 28, brace yourself for an exhilarating rollercoaster of discounts with up to a whopping 70% off across a staggering array of categories. This extravaganza isn't just a sale; it's an eight-day shopping fiesta that promises the best deals on everything you desire.
| | |
| --- | --- |
| What to Expect | Highlights |
| Categories | Electronics, sports, beauty, fashion, kitchen, home, and more! |
| Discounts | Up to 70% off |
| Duration | Until Monday, November 28 |
| Featured Brands | Samsung, Lenovo, Nutricook, L'Oreal, Michael Kors, and much more |
While shopping during the sale, the Amazon promo codes help you grab extensive savings. Also, your credit cards are about to witness some serious action as you dive into a whirlwind of iconic savings. So, gather your shopping spirit and those virtual carts – Christmas comes early this year!
West Elm White Friday Sale 2023:
Unleash the potential of your living space during West Elm's highly anticipated White Friday Sale. With discounts reaching up to 75% off, this is your chance to transform your home decor and furniture at a fraction of the cost. Here's what you need to know:
Categories and Discounts:
| | | |
| --- | --- | --- |
| Category | Discount | Featured Items |
| Furniture | Minimum 30% off | Sofas & Sectionals, Chairs, Coffee Tables, Leather Furniture, and more |
| Outdoor Settings | Up to 55% off | Outdoor Lounge Furniture, Outdoor Dining Furniture, Outdoor Planters, and more |
| Beddings & Beds | Up to 75% off | Duvet Covers, Sheets & Pillowcases, Quilts & Blankets, Linen, Velvet, Organic options |
| Lighting | 55% off | Table Lamps, Floor Lamps, Chandeliers & Pendants, Wall Lamps, Light Bulbs |
| Cushions & Decor | Minimum 30% off | Cushions, Throws, Poufs, Vases, Decorative Objects, Candles & Diffusers |
| Art & Mirrors | Up to 60% off | Wall Mirrors, Floor Mirrors, Picture Frames, Wall Art |
Explore a plethora of categories and products, each offering remarkable discounts. And the best part, with the West Elm promo codes, unlock additional savings in an instant!
Noon White Friday Sale 2023:
Prepare for a shopping extravaganza like never before! The Noon White Friday Sale 2023 is here, offering unbeatable discounts on a wide range of categories. Check out the highlights:
| | |
| --- | --- |
| Deal Description | Discounts & Offers |
| Electronics | Up to 80% off on top brands like Samsung, Huawei, and more. Extra 10% off with Noon coupon code. |
| Fashion | Enjoy up to 80% off on Men's and Women's wear. Buy 1 Get 1 Free offers available. |
| Beauty & Fragrances | Save up to 80% on fragrances and beauty products from renowned brands. |
| Eyewear & Watches | Explore a variety of eyewear and watches with Buy 1 Get 1 Free offer. |
Don't miss out on these incredible deals during the Noon White Friday Sale 2023. Upgrade your lifestyle while saving big during the sale using Noon discount code!
Namshi White Friday Sale 2023:
Get ready for Namshi's White Friday Sale in UAE! Unbelievable discounts await across fashion, beauty, accessories, and more. Get up to 60% off on all categories including clothing, shoes, bags, jewelry, beauty, personal care, home, sunglasses, and sporting goods. Also, get an extra 20% off by applying the Namshi discount code at checkout. Elevate your savings with an additional discount. Don't miss out on the chance to redefine your style and upgrade your lifestyle without breaking the bank.
Best-Selling Categories:
| | |
| --- | --- |
| Category | Discount |
| Clothing | Up to 90% |
| Beauty Products | Up to 80% |
| Accessories | Up to 90% |
| Footwear | Up to 80% |
| Home and Lifestyle | Up to 90% |


Bloomingdale's White Friday Sale UAE 2023:
Prepare for the shopping spree of a lifetime at Bloomingdale's Dubai Sale 2023 for White Friday! Get ready to explore an array of unbeatable deals across categories for men, women, kids, and home. Here's a sneak peek at what's in store:
| | | | |
| --- | --- | --- | --- |
| Women's Section | Men's Section | Kids Section | Home Decor & Essentials |
| Clothing: Up to 70% off | Clothing: Up to 75% off | Clothing: Up to 70% off | Bathroom: Max 50% off |
| Accessories: Up to 61% off | Shoes: Up to 50% off | Shoes: Max 60% off | Bedroom: Up to 75% off |
| Bags: Up to 60% off | Bags: Max 31% off | Accessories: Max 70% off | Home Decor: Up to 50% off |
| Beauty: Max 20% off | Accessories: Max 70% off | | Crockery: Avail max 75% off |
| Footwear: Max 60% off | | | |
From head-turning outfits to stylish accessories, from charming kids' wear to elegant home essentials, Bloomingdale's has everything you need to elevate your lifestyle. Don't miss out on this limited-time opportunity to snag remarkable discounts using Bloomingdales coupons. Get ready to shop till you drop!
Sun And Sand Sports White Friday Sale 2023: Unleash the Ultimate Savings!
Get ready to elevate your sporty style and fitness game with the Sun and Sand Sports White Friday Sale 2023! Whether you're a sneakerhead, a gym enthusiast, or a fashion-forward individual, this is your golden opportunity to score big on sports shoes, outfits, and accessories. Imagine snagging those coveted pieces you've had your eye on at prices that are jaw-droppingly affordable.
Top Categories On Sale:
| | |
| --- | --- |
| Category | Discount |
| Shoes | Up to 50% Off |
| Clothing | Get up to 75% off |
| Accessories | Max 50% off |
| Equipment | Max 50% off |
| Health & Nutrition | Avail max 50% off |
Don't miss out on this thrilling shopping extravaganza, where every click leads to savings that will make your heart race. It's time to revamp your activewear, upgrade your gear, and embrace a healthier lifestyle without breaking the bank. The Sun and Sand Sports coupon code for White Friday Sale 2023 is your ticket to a sporty-chic transformation that your wallet will thank you for!


Carrefour White Friday Sale 2023: Unbelievable Deals Await!
Discover the Carrefour White Friday Sale 2023 – your gateway to unbeatable savings on tech and more! Until November 26, Carrefour is your ultimate shopping destination. Whether you wish to get laptops, TV, video games, or smartphones within your budget, Carrefour is the one-stop shop. Simply use the Carrefour promo code on the sale items to grab them at discounted prices.
Check out these amazing sale offers in Dubai:
| | |
| --- | --- |
| Categories | Discounts |
| Laptops, Tablets, TVs | Up to 40% Off |
| Video Games, Consoles | Up to 50% Off |
| Smartphones | Up to 50% Off |
So don't wait – Carrefour's White Friday Sale Dubai is your chance to elevate your shopping game and save big!
As you embark on this shopping adventure, remember, the key is not just to buy, but to buy smartly. Let's uncover the secrets to seizing the best bargains and walking away with bags full of satisfaction!
Tips To Mastering Your White Friday Strategy
Get ready, shoppers, as you sail through White Friday Sales UAE with researched precision and budgeting finesse!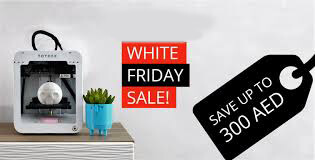 1. Research and Wishlist:
Research with Precision: Dive deep into product research before the sales storm. Understand the features, specs, and reviews of the items you desire.
Craft Your Wishlist: Create a digital wishlist to keep track of your coveted items. This not only keeps you organized but also helps you compare prices across platforms effortlessly.


2. Budgeting:
Set Your Sails Straight: Before the deals beckon, set a realistic budget to navigate the shopping seas with confidence.
Divide and Conquer: Categorize your budget – electronics, fashion, and home goods – to prevent overspending and ensure balanced shopping.


3. Early Bird Advantage:
Benefits of Early Start: Get a head start on the best deals while others are still sipping their morning coffee.
Limited-Time Offers: Grab a hold of exclusive offers available only during the initial hours.


4. Flash Sales and Limited Deals:
Quick Decision Strategies: Learn to make on-the-spot choices without compromising on quality.
Strategic Shopping: Keep an eye out for flash sales and time-sensitive deals to maximize savings.
So gear up, savvy shopper, as we unveil the secrets to gracefully glide through the White Friday madness while others are still rubbing their eyes. Your shopping saga begins now!
Unveiling Hidden Treasures: Your Exclusive Insider Insights
Get ready to elevate your White Friday shopping experience with our top-notch insider tips!


1. Coupons:
Why settle for regular discounts when you can supercharge your savings with coupons? During the electrifying Dubai White Friday sales, using coupons is your golden ticket to unlock even more jaw-dropping deals. Say hello to incredible markdowns on your favorite brands and products. To take your coupon game to the next level, we recommend checking out CouponMoto.ae. They've got an arsenal of exclusive coupons that can make your shopping dreams come true without breaking the bank.


2. Email Subscriptions:
Want to be in the know before everyone else? Subscribing to CouponMoto.ae's newsletters is your VIP pass to early access and exclusive deals. Imagine being the first to snag those limited-time offers, ensuring you don't miss out on anything fabulous. Not only that but staying connected through emails means you're part of an elite club receiving personalized recommendations tailored just for you. Trust us, this is the kind of inbox clutter you'll absolutely love.


3. Social Media:
Dive into the social media frenzy during White Friday and let platforms like Instagram and Twitter become your treasure map. Uncover the best deals and insider tips, and watch as your shopping cart fills up with goodies you didn't even know existed. It's like having a personal shopping assistant right at your fingertips.
Prepare to become the ultimate White Friday shopping connoisseur with these exclusive insider insights. The game of saving big and shopping smart has just been elevated to a whole new level. Are you ready to make the most out of this shopping extravaganza?
FAQ:
1. When is White Friday in UAE 2023?
White Friday in UAE 2023 is set to dazzle from 22nd to 30th November, flooding the shopping scene with unbeatable deals.


2. What is White Friday Sale?
White Friday Sale in UAE is a dynamic shopping event where shoppers can indulge in massive discounts on a wide range of products, akin to the celebrated Black Friday tradition.


3. How can I make the most of White Friday Sales?
To maximize White Friday Sales Dubai, keep an eye on CouponMoto.ae for exclusive deals and tips to snag the best bargains.


4. Are the discounts on White Friday genuine?
Yes, the discounts during White Friday are genuine and can be a golden opportunity to save big on your favorite items.


5. Can I find deals on electronics during White Friday Sales?
Yes, you can discover fantastic deals on electronics during White Friday Sale UAE, especially in stores like Noon and Amazon.


6. What categories of products are usually on sale during White Friday?
During White Friday, a plethora of categories including electronics, fashion, beauty, and home goods are known to offer exceptional deals.


7. How can I stay updated on White Friday sale dates?
Stay in the loop by following CouponMoto UAE for real-time updates, exclusive offers, and valuable insights to navigate the White Friday chaos.


8. Are returns and exchanges available for White Friday purchases?
Yes, returns and exchanges are typically available, but policies may vary by store. Be sure to review each retailer's terms before making a purchase.
9. What sets White Friday apart from other sales events?
White Friday stands out with its significant discounts and exclusive deals, making it a must-watch event for bargain hunters.


10. Can I expect discounts on luxury brands during White Friday?
Yes, White Friday often surprises shoppers with luxury brand discounts. Check CouponMoto.ae for potential upscale steals.


11. How early should I start shopping on White Friday?
It's wise to start early as many platforms launch deals at the stroke of midnight. Staying prepared gives you an edge in snagging the best deals.




Contact Us:
If you have any queries regarding White Friday Sales UAE, reach out to us at:
Email: sonali@couponmoto.com
We are here to help you. Our support team will get back to you in 48 hours.