Whitening Up Your World: Unveiling the Spectacular White Wednesday Sales in the UAE!
Unveiling the Spectacular White Wednesday Sales in the UAE!
Author : Shreya
|
Updated On: 10 Aug 2023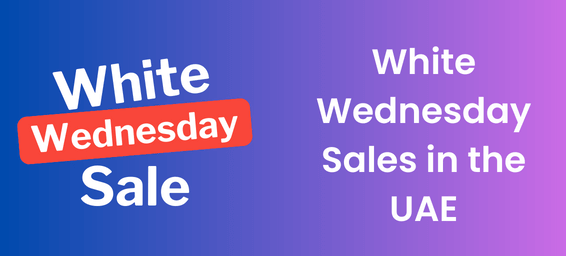 Whitening Up Your World: Unveiling the Spectacular White Wednesday Sales in the UAE!
The Ultimate White Wednesday Sale: Your Gateway to UAE's Shopping Extravaganza
Get ready for an unparalleled shopping experience as we dive into the UAE's most anticipated event: White Wednesday. Imagine a day with deals that can't be beaten and excitement that spreads all over the country. This is more than a sale; it's a retail phenomenon that promises excitement, huge discounts, and endless possibilities.
White Wednesday is the right mix of the chaos of Black Friday and the online craziness of Cyber Monday. It's a unique shopping experience that has wowed buyers in the UAE. This is the time to seize amazing offers, from cutting-edge gadgets to luxurious fashion pieces.
In this guide, we unveil strategies to conquer White Wednesday. From navigating online shopping options to uncovering the best deals, we've got you covered. Whether you're a seasoned shopper or new to the experience, our insights will ensure you emerge with a triumphant haul and a delighted wallet.
Join us on this shopping adventure, where each click and buy is a step toward shopping success. The countdown to the Ultimate White Wednesday Sale UAE has started. Let's shop smarter, happier, and more savvy than ever before.
Unlocking Unbelievable Savings: The Best White Wednesday Deals in UAE
What is White Wednesday?
White Wednesday started out as a combination of Black Friday and Cyber Monday, but it has grown into a shopping event that will change the way you shop. This trend has spread around the world, and in the UAE, it has become an annual event with deals that will blow your mind and energy that can't be beaten. White Wednesday is just like its other namesakes in that it is a day when shoppers can get amazing deals. It is now a date that every smart buyer has on their calendar.
When is White Wednesday 2023?
White Wednesday Sale Dates: November 22, 2023 till November 26, 2023
Mark your calendars for the shopping event of the year! White Wednesday Sale is slated to arrive on November 22, 2023, igniting a wave of anticipation across the nation. As soon as the clock hits midnight, the deals will start. This will set off a shopping frenzy that will bring savings that can't be beaten. Get ready to experience the thrill firsthand and seize the opportunity to bag the best deals before they vanish.
Gear up for an unparalleled shopping spree as White Wednesday 2023 approaches. This annual event has become a permanent part of the UAE's shopping scene. Its roots can be found in the excitement of Black Friday and the online appeal of Cyber Monday. As the sale date gets near, the air is so full of excitement that you can almost taste it. Don't miss out on your chance to revel in remarkable discounts and score the ultimate deals of the year.
Mastering White Wednesday Prep: Your Guide to Smart Shopping
Gear up for the shopping event of the year: White Wednesday! UAE's retail scene is about to explode with unbeatable deals, making it essential to plan your shopping spree wisely. In this section, we'll share three key tips to ensure your White Wednesday is a budget-friendly success. From crafting a spending plan to uncovering top deals and defeating impulsive purchases, we've got you covered. So let's dive in!
Smart Shopping Tips:
1. Set a Budget:
Keep your spending in check by establishing a budget before the frenzy begins. Resist overspending by knowing your limits and prioritizing your shopping goals. A well-planned budget ensures guilt-free shopping!
2. Explore Store Offers:
Unearth the best deals by researching participating stores beforehand. Highlight the must-haves and plan your shopping route strategically. This quick research can lead to major savings.
3. Focus on Your Shopping List:
Dodge impulse buying by creating a shopping list ahead of time. Identify what you truly need and stick to it. By staying focused, you'll emerge from White Wednesday with items that genuinely enhance your lifestyle.
With these savvy strategies, you're ready to tackle White Wednesday with confidence and come out victorious. Let's shop smarter, not harder!
Navigating the Deals On Best-Selling Categories During White Wednesday!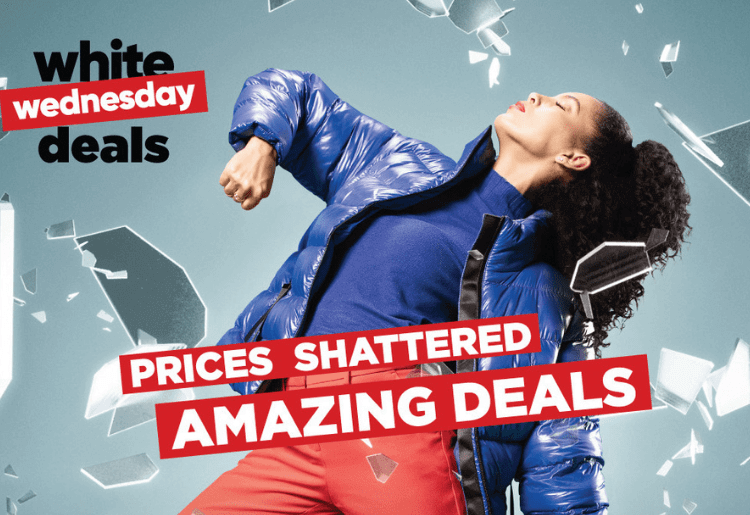 Prepare for the shopping event of the year, where savings soar and deals astound! As we gear up for the upcoming White Wednesday Sale UAE, let's dive into the anticipated Best-Selling Categories that are set to steal the show. Here's what you can expect in terms of jaw-dropping discounts:
| | |
| --- | --- |
| Category | Expected Savings |
| Fashion | Up To 80% Off |
| Electronics | Maximum 90% Off |
| Beauty Products | Up To 50% Off |
| Travel | 15-20% Off |
| Home Appliances | Maximum 70% Off |
| Food Delivery & Restaurants | Up To 50% Off |
| Baby Products | Max. 70% Off |


Electronics and Gadgets
Tech lovers, rejoice! Score unbeatable deals on the latest gadgets:
Smartphones that'll make you the envy of your friends.
Laptops and tablets for work and play.
Wireless headphones and earbuds for immersive sound.


Fashion and Beauty Products
Fashionistas and beauty aficionados, this is your moment:
Trend-setting outfits and accessories to upgrade your style.
Skincare sets and makeup must-haves for a flawless look.
Perfumes and fragrances that captivate.


Home Appliances and Furnishings
Elevate your living space with incredible offers:
Kitchen appliances that'll make cooking a breeze.
Cozy furnishings to create your sanctuary.
Home decor to reflect your personality.
Get ready to shop smarter and snag deals that'll leave you grinning! Remember – these are just a glimpse of the treasures waiting for you on White Wednesday. Let the countdown begin!


Top Stores Known For Their Exceptional White Wednesday Deals:
| | |
| --- | --- |
| Stores | White Wednesday Offers |
| West Elm | Save Up To 75% + Extra 5% Off |
| Namshi | Max. 60% + Extra 20% Off |
| Noon | Up To 80% + Extra 10% Off |
| Carrefour | Save AED 250 on cart total |
| Styli | Save huge using Styli coupons |
| Nike | Up To 40% off on sportswear |
| Sun And Sand Sports | 70% discount using coupon code |
| Mumzworld | Up to 75% off on home essentials |
| Careem | Up To 50% Off |
| Max Fashion | Get 70% + Extra 10% Off |
| AliExpress | Up To 90% Off |
| Etihad Airways | Save Up To 50% On Flight Tickets |


Revamp Your Space with Unbeatable Discounts At West Elm:
Get ready for a home decor and furniture upgrade with discounts of up to 90%! Don't miss out on the biggest sale of the year—the perfect time to transform your living space at incredible prices. Discover luxury furniture and stunning home decor at West Elm. Enjoy up to 75% off and an extra 5% discount using the West Elm promo code during the checkout. From stylish furniture to captivating decor, this deal has you covered.
Categories: Furniture, Home Decor, Kitchenware, Outdoor Furniture, Bedding, and more!
Free Shipping: Yes, it's on the house!
Hurry and give your space a makeover without blowing your budget. Act now and turn your design dreams into reality!
Get Up To 60% Off During The Namshi White Wednesday:
Prepare to be captivated by up to a whopping 60% discount on chic Tops and Tees at Namshi. The best part? The exclusive White Wednesday Dubai deals hold no restrictions on the minimum cart value, ensuring that your style upgrade doesn't come with strings attached. You can earn a maximum of 60% off + an extra 20% Off on a variety of products using the Namshi discount code.
Unveiling White Wednesday's Irresistible Deals At Noon:
Are you a tech aficionado, always looking for the latest gadgets? Noon has a treat for you with their unbeatable White Wednesday offers. Gear up to save big with Noon's exclusive White Wednesday discount code. Experience the thrill of up to 80% off, and that's not all – snag an extra 10% discount on top! There are no pesky restrictions on minimum purchase value, making it easier than ever to overhaul your home setup.
From kitchen must-haves to laundry essentials, Noon has you covered with unbeatable deals on all home appliances and electronics. Slide into the future with an extra 10% discount using the exclusive Noon voucher code. Whether you're on the app or browsing on the web, it's as simple as a few taps or clicks. And guess what? A base discount of 70% is already applied to the electronics you've been eyeing! Watch your cart total shrink as your tech wishlist grows.
Enjoy Carrefour's Tech Bonanza:
Attention, savvy shoppers! Carrefour's White Wednesday Dubai deals are ready to rock your world. Imagine AED 250 slashed off your total – all thanks to a smart Carrefour discount code and a minimum order value of AED 250. Also, your Emirates NBD Visa Credit card is your ticket to tech paradise, where incredible savings await. Say goodbye to budget constraints and wave hello to a pocket-friendly haul that doesn't compromise on quality. Seize this opportunity, claim your code, and let your home resonate with the hum of innovation.
Styli White Wednesday Offers That Will Delight You:
Dive into a world of fashion and savings with Styli's White Wednesday extravaganza. Here's what you need to know:
Discount Delight: Score amazing discounts on shirts, dresses, tops, sportswear, and more.
Coupon Code Magic: Use Styli coupon code for extra White Wednesday savings.
Accessorize with STYLE: Choose from dresses, jackets, and funky accessories.
Styli isn't just fashion; it's a gateway to style and savings combined! So do not miss this opportunity to grab your favorite at Styli during the White Wednesday Sale 2023.
Embrace Style and Savings With Nike White Wednesday Sale UAE:
Brace yourselves for an extraordinary fashion fiesta during the Nike White Wednesday Sale 2023. Let's delve into the shopping spree: Get Up To 40% Off On Nike Shoes! Elevate your sportswear game with up to 40% off on all things Nike – from stylish basketball jerseys and cozy fleece tops to those sought-after shoes that define your individuality. Here's the kicker: with the help of a special Nike promo code, you can make the most of this deal. The road to savings is as smooth as slipping into your favorite pair of sneakers.
Save Up To 70% On Sun And Sand Sports:
Score up to an astounding 70% discount on training essentials at Sun and Sand Sports. No, you're not dreaming – this offer is as real as it gets. Picture this: revamp your wardrobe with the latest trends while keeping your finances in check – it's all within reach, thanks to the Sun and Sand Sports codes that promise unmatched savings. Dive headfirst into the savings oasis and equip yourself with top-notch gear without a hitch.
Elevate Your Space With Mumzworld White Wednesday Offers:
Say hello to jaw-dropping discounts at Mumzworld, where you can unlock savings of up to 75% off on home essentials! Picture a harmonious blend of style and functionality as you explore Mumzworld's curated collection. The best part? There's no minimum purchase value required to enjoy these incredible savings using the Mumzworld coupons. Don't miss out on this extraordinary opportunity to elevate your living space with premium home appliances.
The White Wednesday Sale 2023 has rolled out the red carpet for you, inviting you to indulge in a shopping spree that promises both convenience and affordability. Upgrade your home, and upgrade your life – all while enjoying unbeatable savings!
Tips for Maximum Savings During The White Wednesdays:
Ready to embark on your ultimate White Wednesday shopping spree? Hold onto your shopping bags because we've got insider strategies that are about to elevate your experience to a whole new level!
Supercharge Your Savings with CouponMoto UAE:
Score jaw-dropping discounts with just a few clicks! Dive into the treasure trove of coupon codes at CouponMoto.ae, your trusty ally in the quest for savings. Whether you're eyeing the latest gadgets or fashion essentials, CouponMoto.ae has your back with exclusive deals that'll leave your wallet dancing with joy.
Stay Ahead of the Game with Newsletters:
Don't just wait for the deals to come knocking; be the first to know when the floodgates of savings open! Sign up for CouponMoto UAE's newsletters and watch your inbox turn into a goldmine of early sale notifications. Picture this: you, sipping your morning coffee, as you unveil secret discounts before the rest of the world even hits snooze.
Unearth Flash Deals on Social Media:
Get ready to refresh, double-tap, and swipe your way to unbeatable flash deals! Follow your favorite stores on social media to unlock a world of real-time updates, lightning-fast flash sales, and exclusive offers that disappear quicker than a shooting star. Your feed is about to become the gateway to spontaneous savings that'll have you grinning from ear to ear.
Get set to dazzle, strategize, and conquer White Wednesday like a seasoned pro! Remember, these insider tips are your compass to navigating the sale of the year with style and smarts. Happy shopping!
Frequently Asked Questions (FAQ):
1. What is White Wednesday sale in UAE?
The White Wednesday sale in the UAE is a highly anticipated mega-shopping event, offering incredible discounts across various categories.
2. What time of year are white sales usually held?
White Wednesday usually falls in the last week of November, kicking off the holiday shopping season with a bang.
3. How can I maximize my savings during White Wednesday?
To boost your savings during White Wednesday Sale Dubai, consider using coupon codes from CouponMoto.ae, signing up for store newsletters, and following your favorite stores on social media for flash deals and updates.
4. What types of products are typically on sale during White Wednesday?
From electronics and fashion to home appliances, White Wednesday sale Dubai covers a wide range of products, ensuring there's something for everyone's shopping list.
5. How do I stay informed about White Wednesday Sale dates?
Stay ahead of the game by signing up for store newsletters to receive early notifications, and by following your preferred stores on social media for instant updates and flash deals.
6. Can I find both online and in-store White Wednesday deals?
Yes, White Wednesday offers both online and in-store deals. While online shopping is convenient, some stores also provide exclusive in-store deals for a more immersive shopping experience.
7. What should I expect on White Wednesday Eve?
White Wednesday Eve sets the stage for excitement with midnight store openings and special events, setting the tone for the grand shopping day ahead.